End-to-end Load Tracking & Supply Chain Solution
Track and Trace Loads in Real-time. Get Automatic Status Updates. Automate Load traffic/dispatch Operation.

Monitor Your Logistics & Supply Chain Operation
allGeo load tracking app provides live tracking on ongoing transportation operations, giving you immediate notifications whenever a load gets delayed and provides an ETA based on real-time conditions. Cost-effectively monitor critical events of your logistics and supply chain operation. Works on any type of smartphone.
Get powerful load status, scan trailer barcodes, and automate logistics event monitoring e.g. Departure from PDC, Delivery, ETA status, etc.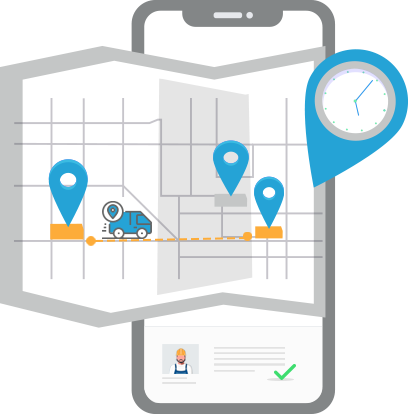 Manage Trips and Automate Compliance
Easy Setup
Easily setup drivers and assign trips one-by-one or in bulk using file upload or APIs. Assign ad-hoc Drivers (e.g. contractors) to HCR and Go-Anywhere Trips. Automatically setup geofence around pick-up and drop-off points.
On-Demand Tracking
Real-time load/driver visibility and periodic status alerts via dependable tracking using hybrid positioning ( Wifi, and GPS).
Smart Dispatch
allGeo smart dispatching solution helps you streamline scheduling, routing and dispatching operations. Optimise routes and shows optimal routes to the drivers via mobile app.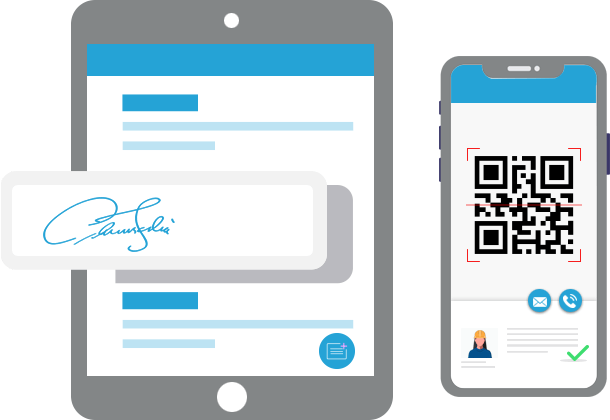 Logistics Data Collection Using Any Phone
Go paperless by turning mobile phones into a smart data-collection tool. Drivers can scan trailer barcodes, use custom forms, pictures and signature using iPhones, Android phones or iPad devices.
Real-time visibility of the supply chain and delivery process is a "must" for any logistic manager. More and more enterprises are turning to web and cloud-based logistics solutions and electronic proof of delivery (EPOD) designed to bring transparency to their logistics operations. This is done through mobile-based processes and services, enhancing traceability across their entire operations.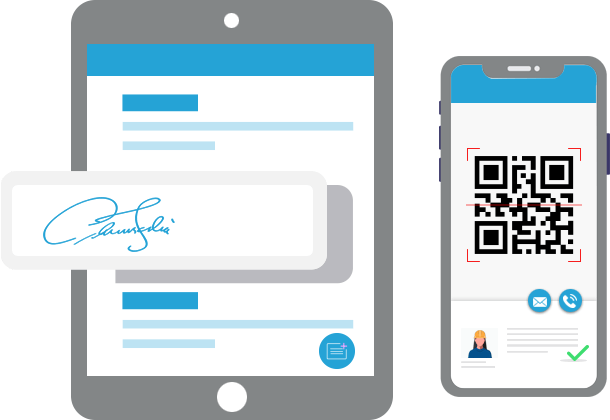 Collect Data from Trips
QR Code & Barcode Scanner
Scan surface visibility (SV) barcodes (99T, 99V) to dynamically assign trailers to trips. Drivers can use QR codes and Barcodes scan via the app to track assets. Set up rules & workflows to automatically escalate any exceptions.
Rich Media Capture
Drivers can capture and attach rich media data such as photos & signatures. In addition, the electronic proof of delivery system can streamline the process of delivering goods & services, increasing efficiency and accuracy across the entire business, and resulting in improved customer satisfaction.
Routing and Mileage
Drivers can view the best route and access directions help for their deliveries via the mobile app. The system automatically computes mileage for the routes taken by the drivers.
Automate Load Operations using Smart Workflows
Level up load operations and automate delivery workflow using customizable IFTTT (If-this-then-that) rules engine. Generate real-time alerts, notifications, and reports based on any event/exception involving people, place, and time (ex: late arrival, departed early, etc.).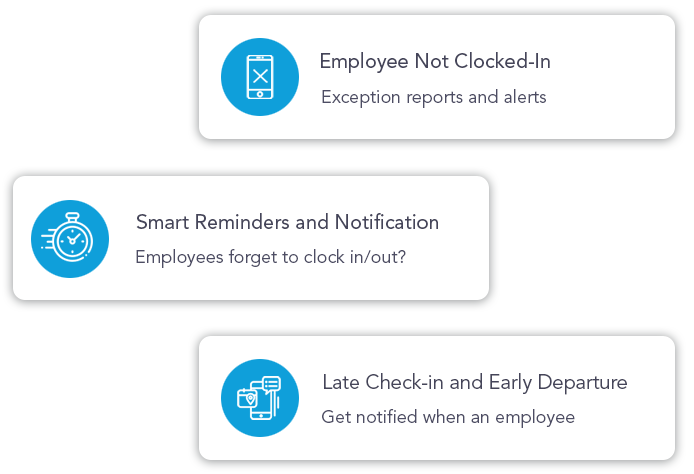 Preset Alerts, Reminders and Notifications
Driver Not Pressed Trip Start
Exception reports and alerts for drivers(or groups) who have not pressed the trip start button by a certain time. Supports both on-demand and scheduled reports.
Smart Reminders and Notification
Drivers forget to press the trip start/stop button? No problem! Set up reminders based on their work schedule. Example: don't forget to press the button, or App is turned off, etc.
Late Check-in and Early Departure
Get notified when a driver is running starting a trip late or early from the worksite. Supports 2-way notification (email, text, or call) to managers and drivers.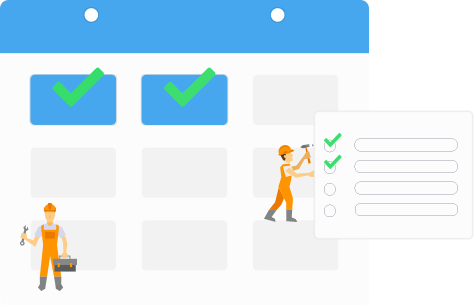 Automate Scheduling and Job-dispatch
A calendar based scheduling system where drivers schedules can be seen in one composite view and new scheduling assignments can be made. Dynamic jobs assignment process where drivers get their schedules in real-time, based on their location, workload and job details.
Set up a custom tracking schedule for each driver (or group) based on their trip schedule and time zone. Assign "tasks", and "jobs" (geofence).
Create custom "work rules" for each driver(or group) to automate schedule and dispatch based on the activity (or inactivity) from the field.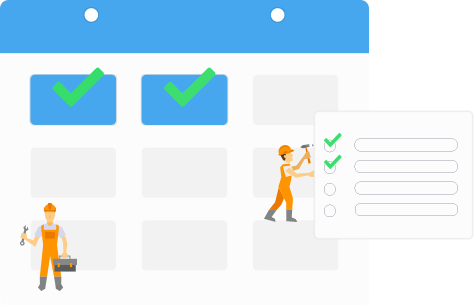 Powerful Scheduling and Dispatch Features
Intuitive and Easy Scheduling
Single composite view and drag/drop UI enables you to build the work schedule in minutes. The schedules can also be imported into the system from a third party calendar such as Outlook.
Job Dispatch via Geofencing
Assign 'customers', 'jobs', and 'tasks' for drivers based on their trip schedule. Drivers get notifications via the app and can mark status in real-time.
Routing and Mileage
Drivers can view the best route and access directions help for their assignments via the mobile app. The system automatically computes mileage.
Integration with Payroll and handling complex rules for payroll
Time & attendance needs to handle complex payroll calculations (e.g. variable pay rates) and eliminate the manual and time consuming process of reconciling time-logs from the field for payroll processing.
Basic time tracking solutions are unable to handle the complex jobs tracking & payroll requirements of mid-size and enterprise businesses. First, highly accurate time tracking prevents payroll teams from having to manually fix and update errors in time sheets. Second, the time tracking system integrates with any payroll system so that employee hours & mileage can be synced without any manual process. And third, businesses can define and apply complex rules to handle varying pay rates for employees and for jobs so that payroll processing is faster and easier.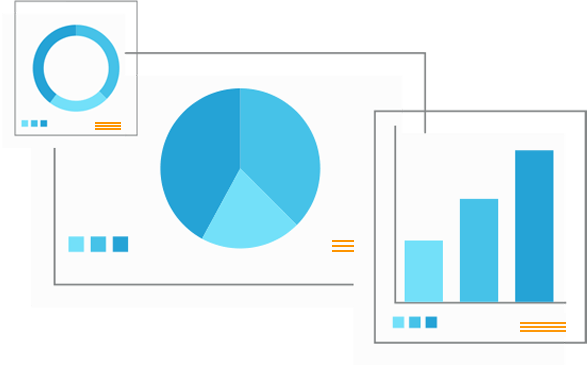 Pre-set Reports
Location History Reports
Scheduled and on-demand location breadcrumb reports for drivers' trip. Tells you where your drivers have been and which 'worksites' they visited during the day.
Mileage Reports
Tracks the distance travelled by mapping to the actual routes to give you accurate mileage reports for each driver.
Load Stoppage Reports
Generate stoppage reports for each trip to get more visibility. Get where your drivers have been and how much time they spent at each stoppage.
allGeo Integrates with All Leading TMS




Leading Companies Trust allGeo to Optimize Field Operation
T&T Enterprises
We have uniquely optimized our fleet operation to meet the logistics reporting requirements for these USPS contracts by setting up the allGeo app on our Mobile Tablets in the vehicles, accommodating flexible schedules for our drivers and utilizing relay trips.
Read Case Study
FX Logistics
The allGeo freight broker software makes our communication with drivers much more efficient as it reduces the routine calls to the truck by almost half, and that alone enables our traffic personnel to concentrate on potential exceptions before they become exceptions
Read Case Study