Electronic Visit Verification for Home Care
Track Visits, Time, Attendance, and Mileage. Automate Billing and Payroll.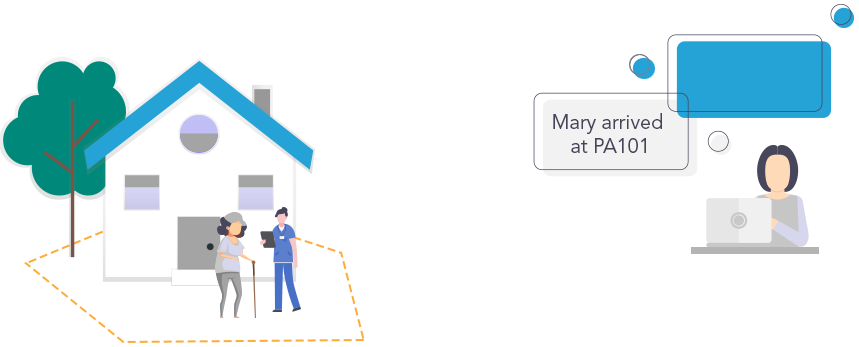 Geofence-Based Electronic Visit Verification Solution
GPS-enabled Electronic Visit Verification System with compliance reporting for federal and state projects (e.g. HEDIS gaps). Collect field data in real-time – visits, tasks carried out, hours, mileage, and notes.
Monitor caregiver safety and automate operations with custom work-rules based on people, place, and time.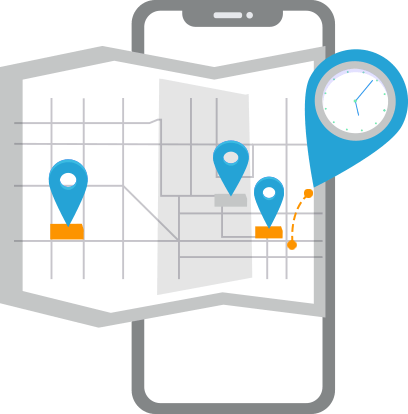 Multiple Modes to Record and Verify Visits
Geofence-Based Visit Verification
Automatic visit tracking using jobsite geofencing for verification and payroll against client's addresses. Requires no training for employees.
Mobile Time Clock App for Caregivers
Manual time clock App for clock In/Out. Caregivers can capture more information – task performed, notes, pictures, signatures and more.
Phone Call and Text-Based Visit Recording
Have a feature phone? Use geotagged text messages or IVR phone call to record visits, time, and attendance. Customize language for text and IVR commands.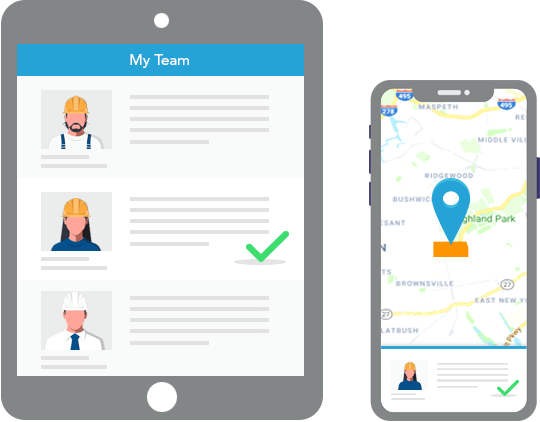 Electronic Visit Verification App supports Android and iOS Devices including phones, notepads
Electronic Visit Verification App using any smartphone. Dependable GPS tracking helps verify visits against client's site (customer address). Caregivers can collect any work-related data share location and communicate with the team via in-app messages.
Back-office operations team can view real-time caregivers' location and dispatch any jobs.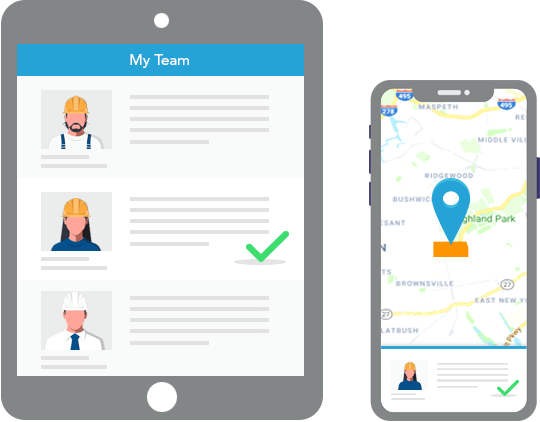 Powerful tools that fit into a Pocket
Geofence Visit Verification
Automatic visit tracking and verification with "always on" GPS tracking and geofencing. Get automatic payroll and location history reports.
Collect Any Type of Data
Caregivers can collect any data from the field – notes, tasks performed, signatures, pictures or use custom forms. Generate federal/state compliance reports.
Routing and Mileage
Caregivers can view the best route and access directions help for their assignments via the app. The system automatically computes mileage.
Automate Day-to-Day Operations, Scheduling and Dispatch
Streamline your day-to-day operations using custom IFTTT (If-this-then-that) rules engine. Set up custom work schedules for each caregiver (or group) based on their time-zone.
Generate real-time alerts and notifications for events/exceptions involving people, place, and time (e.g. late arrival, early departure, no movement, and so on).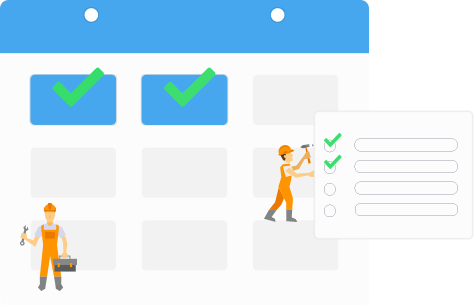 Powerful Rules Engine and Workflow Automation
Job Dispatch via Geofencing
Set up client addresses and assign visits. Users can pull out their assigned visits via the app and mark the status along with notes, tasks, pictures, and so on.
Text, IVR Call, and App based Job Dispatch
Automate job dispatch based on work rules and schedule. Send notifications and reminders via text message, custom voice call (IVR), or app notification.
Smart Reminders & Notification
Caregivers forget to clock-in/out or select a task? Set up automatic reminders based on their schedule or exception. Example: task not recorded, or GPS turned off.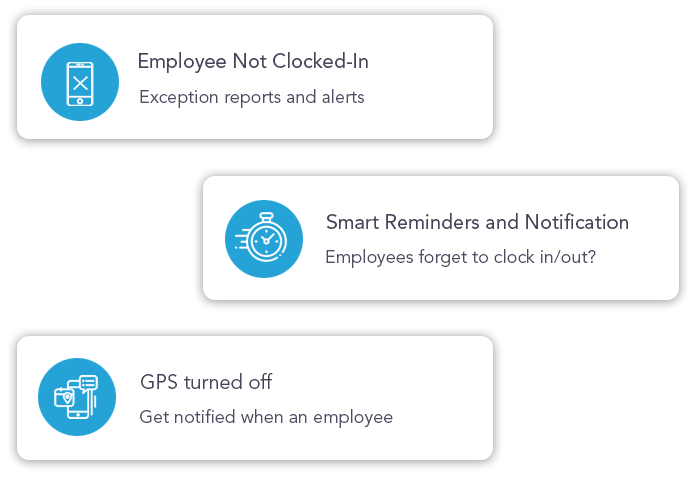 Automate Caregiver Safety Monitoring and Threat Escalation
Monitor and ensure caregivers' safety while they are at clients' home. Caregivers can manually trigger a safety alarm via the app. The system can also be set up to perform periodic safety checks using smart safety workflows.
Or set up a custom multi-level threat escalation channel, including dial-up to the local 911.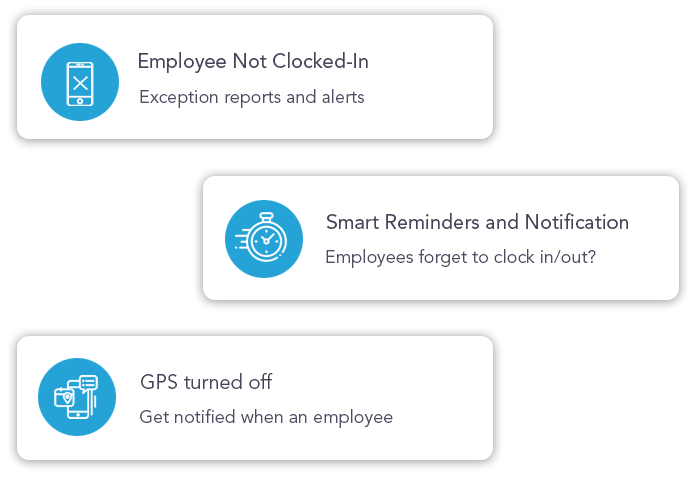 Integration with Payroll and handling complex rules for payroll
Time & attendance needs to handle complex payroll calculations (e.g. variable pay rates) and eliminate the manual and time consuming process of reconciling time-logs from the field for payroll processing.
Basic time tracking solutions are unable to handle the complex jobs tracking & payroll requirements of mid-size and enterprise businesses. First, highly accurate time tracking prevents payroll teams from having to manually fix and update errors in time sheets. Second, the time tracking system integrates with any payroll system so that employee hours & mileage can be synced without any manual process. And third, businesses can define and apply complex rules to handle varying pay rates for employees and for jobs so that payroll processing is faster and easier.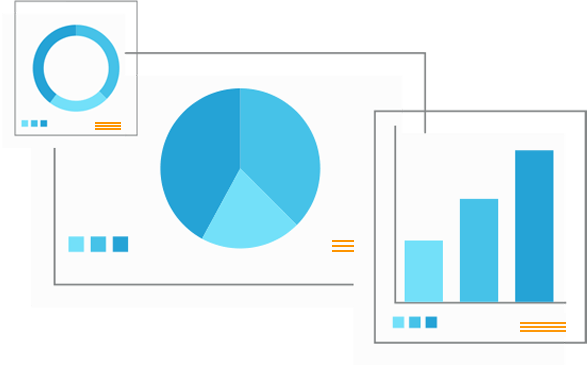 allGeo Integrates with All Leading Payroll Systems




Leading Companies Trust allGeo to Optimize Field Operations
Healthcare
Property & Facility
Sales Rep
Trade Service