Automatic Business Expense and Mileage Tracker
Track Time, Location, Mileage and Expense for Business. Automate with Geofencing, Rules, and Alerts.

Advanced Mileage Tracking App for Business
Record business mileage in real-time and manage employees out in the field. Turn your employees' iPads, iPhones, Android, or any feature phone into a cutting edge mileage management tool for business expenses. Set up custom schedules and record business mileage while employee driving across job-sites.
Automate mileage recording workflow by triggering alerts for exceptions involving people, place, and time.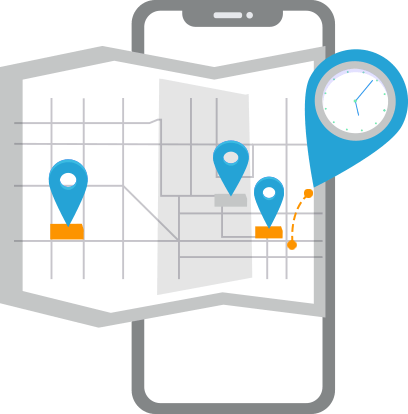 Record Mileage for Business
Effortless Mileage Tracking
Automatically record your miles while employees driving in the field. The app runs in the background tracking your miles and creating a comprehensive record of your drives. Setup schedule around pick-up and drop-off points.
Rich Visualization Dashboard
View real-time employee location, mileage and job status on a map. A visual command-and-control dashboard available via the web or the mobile app.
Automate Field Operations
Create work rules based on people, place, and time. Set rules/alerts based on employee trips and get notified on events in the field such as arrival/departure time, delay and more.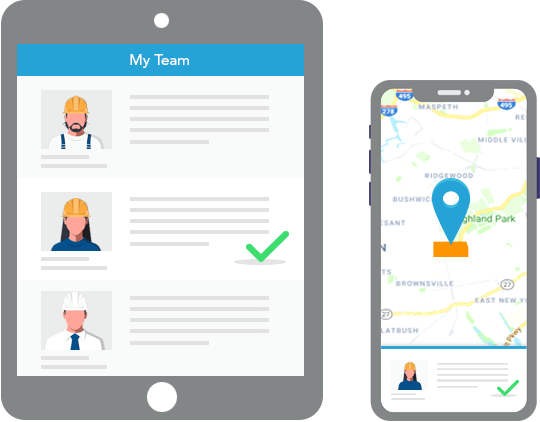 Business Mileage Tracking App supports Android and iOS Devices including phones, notepads
Business Mileage Tracking App using any smartphones. Field Employees can view best routes and can access directions help for their assignments via the app. The system automatically creates a record of mileage and sends you weekly reports for business. Use the web dashboard to generate highly customizable reports.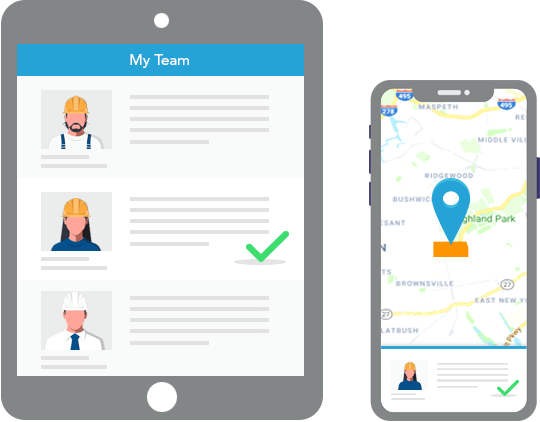 Powerful tools that fit into a Pocket
Routing and Mileage
Field Employees can view the customer assignments and access navigation help directly via the app. The system automatically records mileage for business expenses and re-imbursement.
Collect Any Type of Data
Field employees can collect any data: notes, tasks, customer signatures, or use custom forms. View data in real-time or generate automatic reports.
Location Sharing and Communication
The app allows team members to view and share location. Use in-app messages to communicate with others in the field based on 'who-sees-what' logic.
Automate mileage recording and monitoring of field activities
Automate mileage recording and monitor field activities using customizable IFTTT (If-this-then-that) rules engine. Generate real-time alerts, notifications, and reports based on any events/exceptions involving people, place, and time (ex: late arrival, departed early, etc.).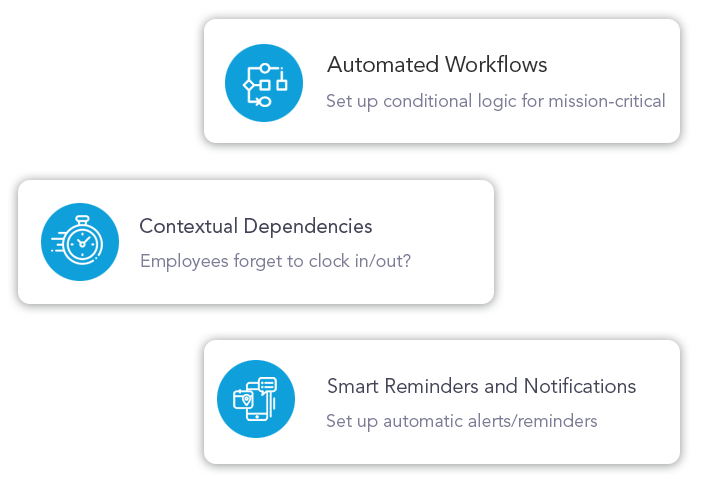 Preset Alerts, Reminders and Notifications
Job Dispatch via Geofencing
Set up client addresses and assign visits. Employees can pull out their assigned visits via the app and mark the status along with notes, tasks, pictures, and so on.
Alerts and Notification
Add customers and assign visits. Set up automatic reminders based on work schedule. Get alerts, notifications for missed visits.
Smart Reminders
Set up automatic alerts/reminders to field employees based on their assignments and tasks. Example: forgot to submit a form, or missed attaching customer signature, and so on.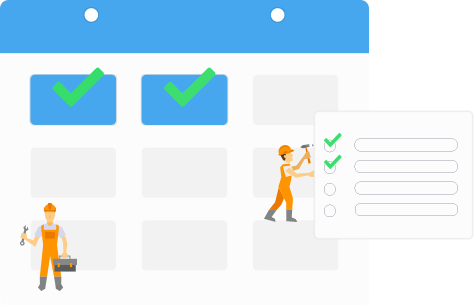 Automate Scheduling and Dispatch
Set up a custom schedule for each employee (or group) based on their work schedule and time zone. Assign "customers" (sites), and "tasks" (worksites).
Create custom "work rules" for each employee (or group) to automate schedule and dispatch based on the activities in the field.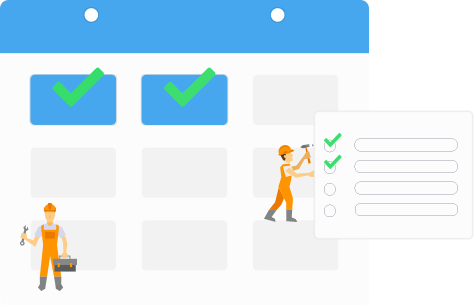 Integration with Payroll and handling complex rules for payroll
Time & attendance needs to handle complex payroll calculations (e.g. variable pay rates) and eliminate the manual and time consuming process of reconciling time-logs from the field for payroll processing.
Basic time tracking solutions are unable to handle the complex jobs tracking & payroll requirements of mid-size and enterprise businesses. First, highly accurate time tracking prevents payroll teams from having to manually fix and update errors in time sheets. Second, the time tracking system integrates with any payroll system so that employee hours & mileage can be synced without any manual process. And third, businesses can define and apply complex rules to handle varying pay rates for employees and for jobs so that payroll processing is faster and easier.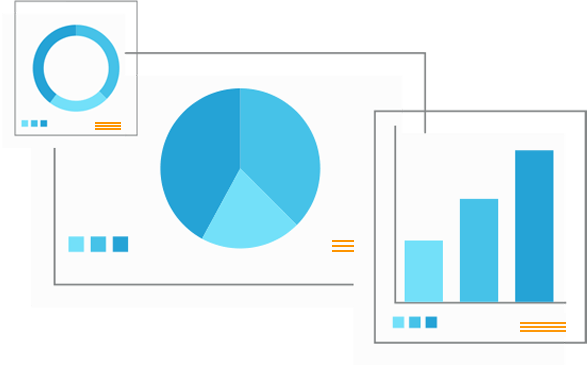 Preset Reports
Mileage Reports
Tracks the distance travelled by mapping to the actual routes to give you accurate mileage reports for your team.
Location History Reports
Scheduled and on-demand location breadcrumb reports. Tells you where your employees have been and which "worksites" they visited during the day.
Visit Audit Log
Tracks the total customer visits made each day and also how much time was spent at each customer site. Use geofences or just use "stoppage".
allGeo Integrates with All Leading CRM Systems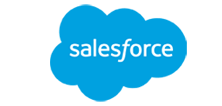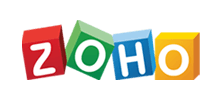 Leading Companies Trust allGeo to Optimize Field Operations
Property & Facility
Sales Rep
Healthcare
Trade Service