GPS Time Clock App for Mobile Employees
Track Time, Location and Site Attendance. Automate Jobs Costing and Payroll.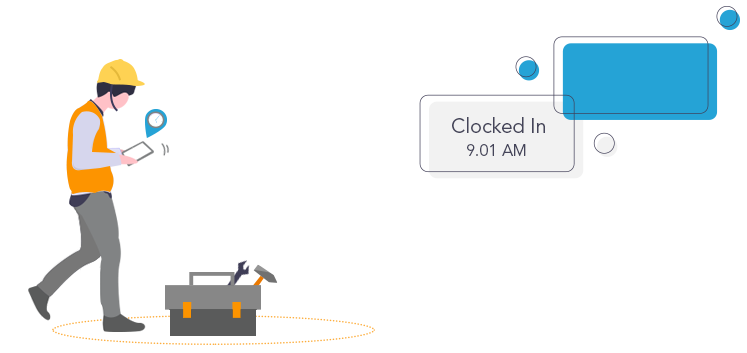 Mobile Time and Attendance Made Easy
Take the complexity out of managing your payroll. Use iPads, iPhones, Android, or any feature phone to clock in and out. Setup "always-on" automatic GPS Tracking and worksite geofencing to monitor site attendance.
With allGeo's GPS time clock app can automatically start and stop as your employees' arrival and departures from a job site. Easily set up geofences so you know where time is spent. Automate operations workflow by triggering alerts for exception involving people, place, and time.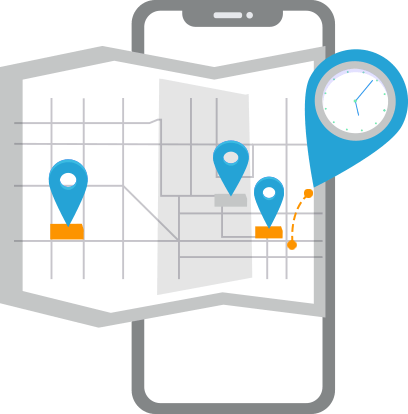 Multiple Modes to Record Time
Geofence Time Clock
"Zero Touch" time clock using jobsite geofencing to track time and site attendance. Low hassle feature. Requires no training for employees.
GPS Time Clock App with Crew Check-in
Manual GPS time clock App for check In/Out. Capture more information using Notes, Tasks, Forms, Pictures, Signature, Scan and more!
IVR and Text based Time-clock
Have a feature phone? Use geotagged text messages or IVR phone call to record time and attendance. Customize language for text and IVR commands.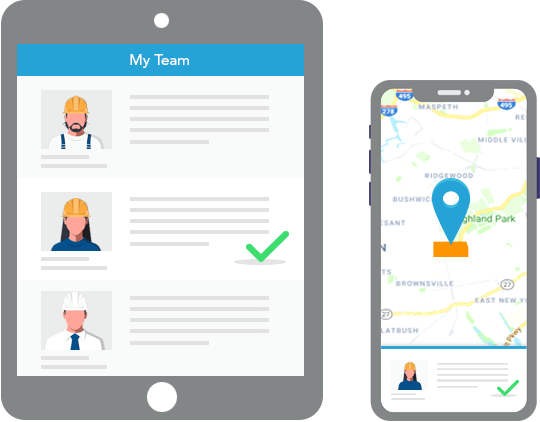 GPS Time Clock App for iPhones, iPads, Android Phones and Tablets
GPS Time and Attendance app for any smartphone. Provides dependable GPS tracking using hybrid positioning (Wifi, and GPS sensors) for indoors and outdoors support. These employees' GPS locations are shown on a map. The maps use satellite imagery to help you make out job-sites and other locations. So you can easily figure out if employees are in the right place, or not.
Set up managers and crew to enable crew check-in. Users can collect any data, share location and communicate with the team via in-app messages.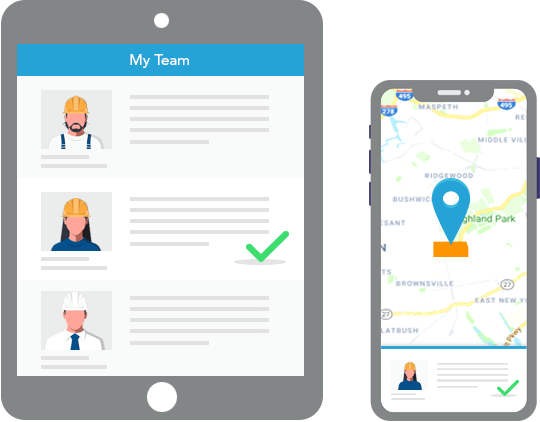 Powerful tools that fit into a Pocket
"Always on" GPS Tracking and Geofencing
"Monitor employee site attendance with "Always on" GPS tracking and geofencing. Get notified upon arrival/departure. Get automatic payroll and location history reports.
Collect Any Type of Inspection Data
Employees can collect any Inspection data from the field – notes, tasks, signatures, pictures or use custom forms. View data in real-time or generate automatic reports.
Team Location Sharing
View your team's location directly via the app. Members can share location and communicate with others in the field. Supports custom "who-sees-what" logic.
Automate Field Operations using Smart Workflows
Level up field operations and automate business workflow using customizable IFTTT (If-this-then-that) rules engine. Know when your employees arrive and leave each job-site with allGeo Geofencing feature, and eliminate manually time spent in check-in.
Generate real-time alerts, notifications, and reports based on any event/exception involving people, place, and time (ex: late arrival, departed early, etc.).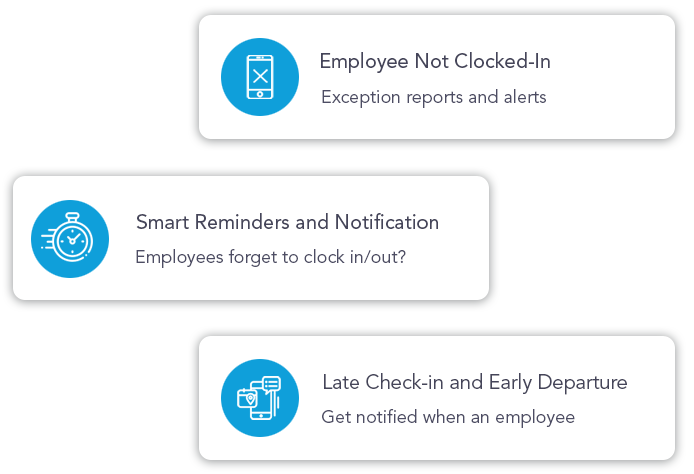 Preset Alerts, Reminders and Notifications
Employee Not Clocked-In
Exception reports and alerts for employees (or groups) who have not clocked-in by a certain time. Supports both on-demand and scheduled reports.
Smart Reminders and Notification
Employees forget to clock in/out? No problem! Set up reminders based on their work schedule. Example: not clocked-in, or App is turned off, etc.
Late Check-in and Early Departure
Get notified when an employee is running late or leaves early from the worksite. Supports 2-way notification (email, text, or call) to managers and employees.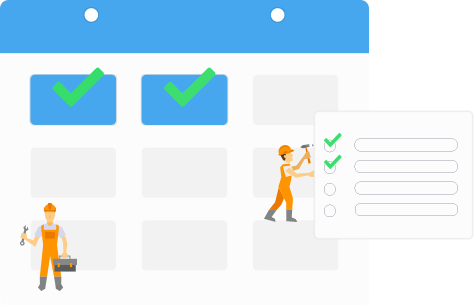 Automate Scheduling and Job Dispatch
A calendar based scheduling system where employees schedules can be seen in one composite view and new scheduling assignments can be made. Dynamic jobs assignment process where employees get their schedules in real-time, based on their location, workload and job details.
Set up a custom schedule for each employee (or group) based on their work schedule and time zone. Assign "tasks", and "jobs" (worksites).
Create custom "work rules" for each employee (or group) to automate schedule and dispatch based on the activity (or inactivity) from the field.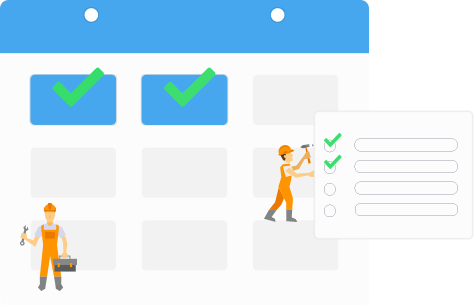 Powerful Scheduling and Dispatch Features
Job Dispatch via Geofencing
Assign 'customers', 'jobs', and 'tasks' for employees based on their work schedule. Users view assignments via the app and mark status in real-time.
Routing and Mileage
Employees can view the best route and access directions help for their assignments via the app. The system automatically computes mileage.
Automatic Job Dispatch
Automate dispatch based on "work rules" and schedule. Employees get notified via text, email, custom voice call (IVR) or App notification.
Integration with Payroll and handling complex rules for payroll
Time & attendance needs to handle complex payroll calculations (e.g. variable pay rates) and eliminate the manual and time consuming process of reconciling time-logs from the field for payroll processing.
Basic time tracking solutions are unable to handle the complex jobs tracking & payroll requirements of mid-size and enterprise businesses. First, highly accurate time tracking prevents payroll teams from having to manually fix and update errors in time sheets. Second, the time tracking system integrates with any payroll system so that employee hours & mileage can be synced without any manual process. And third, businesses can define and apply complex rules to handle varying pay rates for employees and for jobs so that payroll processing is faster and easier.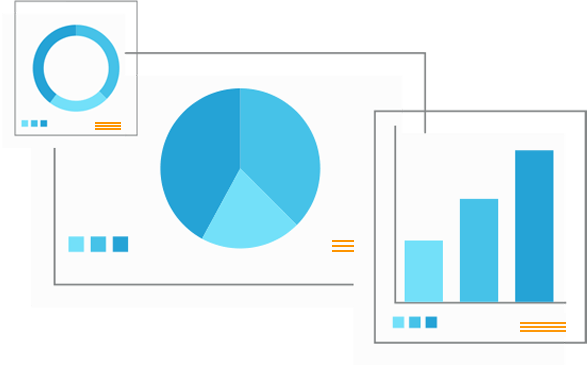 Pre-set Reports
Time Clock Report
Scheduled and on-demand location GPS time clock reports. Tells you what exact time your employees have been Clocked In/Out and which 'worksites' they visited during the day.
Precise Reporting
Save time normally spent on manually making entries and have accurate billable hours for payroll & accounting purposes. allGeo integrates with leading payroll systems.
Location History Reports
Scheduled and on-demand location breadcrumb reports. Tells you where your employees have been and which 'worksites' they visited during the day.
Mobile Time and Attendance Made Easy



Leading Companies Trust allGeo to Optimize Field Operations
Property and Facility
Sales Rep
Healthcare
Trade Service